Western Front
Event
Title:

Santa's Slayfest

When:

20.12.2008 20.00 h

Where:

The Castle - Perth

Category:
Description
Neverborn, Mhorgl, The Furor, Naetu and Grave Forsake
Doors open at 8pm, with the first band kicking off almost as soon as people start to pour in. Throughout the night, FIVE of Perth's talented metal bands will make you think Christmas has come early! The line-up has been specially chosen to showcase new material by the bands, including a special treat, which will have you singing along! Carols at the Castle...  Cool

Blood Black Productions and Iron Guardian Industries have been working together to offer you a night full of metal and shenanigans. All through the night, there will be giveaways, sugar, drink (at the bar anyway), decorations and a raffle. Those who turn up to catch the first band, and arrive before 9pm, will get a raffle ticket. The major prize will be a lovely bottle of booze, and a couple of cds from both BBP and IGI. The other prizes will mostly be music, but there might be a surprise or two thrown in to keep things interesting.

Dress up, Santa wants you to... so do we...  cunning
Santa hats, elf costumes, tight leather, shepherds, King Herod slaughtering babies... what ever you can think of. The crazier/skimpier the better. Who knows, might even be a prize for that!!

Get down there, and get brutal.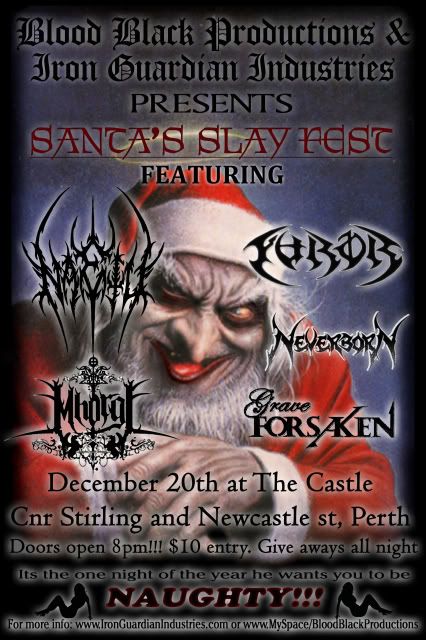 Venue
Map
Venue:

Street:

111 Newcastle Street

ZIP:

6000

City:

Perth

State:

WA

Country:
Description
Sorry, no description available