Dedicated to Australia's metal music scene
News:
Welcome to the Western Front message board

Currently ironing out some bugs with the links being sent from the board in emails.
If you need your password reset the url in the email will not work, but you can contact me directly via the Contact Us menu above.
Thanks for bearing with us.
Show Posts
This section allows you to view all posts made by this member. Note that you can only see posts made in areas you currently have access to.
Topics - cabba
Pages: [1]
1
« on: November 22, 2011, 10:45:00 AM »
Hey there you dirty raiders!
Just a quick one to thank all who helped make 2011 a great year for Claim The Throne.
Triumph And Beyond came out in Dec 2010 and we have sold more copies than we could have wished for. Thanks to everyone who brought it, downloaded it, reviewed it, advertised it, learned lyrics from it, uploaded stuff from it, kissed it, ate it etc. The response has really made it feel worthwhile writing music and playing shows, so can?t wait to get the next one out!
We toured the country with Finntroll in March, an amazing opportunity for us to play in front of new and bigger crowds, as well as catch up with some familiar faces. Thanks for coming to those shows early and watching us, headbanging, buying merch and having a chat.
Then in September we raided the country alone for three weeks. There were some big shows, some small shows, heaps of new places, lots of great people, and a bunch of killer bands. Thanks to everyone who supported us along the way ? punters, promoters, friends, and all who lended a hand you know who you are. It was also our first time over to New Zealand and a lot of regional places throughout Australia. Then four Bastardfest shows throughout the trip was a huge amount of fun, we are so stoked that we had the chance to be involved in these events.
Amongst those highlights, there were of course countless live shows in Perth, we must say thankyou to everyone who continues to support us and the local metal scene. Looking forward to our next chance to get drunk with you all!
2012 is looking to be another massive year. In February we are heading to the UK for a 16 date tour with Alestorm, a huge opportunity to increase exposure for ourselves and the Aussie metal scene. We will also be recording a new album which we hope to release during the year, so listen out for a few new tracks at gigs coming up soon.
With all of the above in mind, we are super broke. Our stockroom is filled with leftover merch that we?d love to offload. CDs, shirts, hoodies, g-strings, stubby holders, posters and plenty more going very cheap. All orders help us immensely, so if you?re so inclined please head to
http://claimthethrone.bigcartel.com
and grab a bargain, we?ll chuck in free stuff wherever we can.
Everyone, thanks again for all the support and for making 2011 an awesome one!
Your allies,
Claim The Throne
http://www.myspace.com/claimthethrone
http://www.facebook.com/claimthethrone
http://www.reverbnation.com/claimthethrone
http://www.twitter.com/CTT_AU
http://claimthethrone.bigcartel.com
* LAST CTT SHOW BEFORE UK TOUR *
A MAXIMUM METAL XMAS
23RD DECEMBER, AMPLIFIER BAR, PERTH
w/ CLAIM THE THRONE, NAILS OF IMPOSITION (ALBUM LAUNCH!), SENSORY AMUSIA, COLD FATE
http://www.facebook.com/#!/events/228480873878343/
THE USELESS DRUNKEN BASTARDS UK/IRELEND TOUR
W/ ALESTORM, CLAIM THE THRONE & MORE
2012.02.04 - Plymouth - White Rabbit
2012.02.05 - Stoke-on-Trent - Green Star
2012.02.06 - Sheffield - Corporation
2012.02.07 - Bristol - The Fleece
2012.02.08 - Southhampton - Talking Heads
2012.02.09 - Manchester - Moho Live
2012.02.10 - Glasgow - Garage
2012.02.11 - Belfast - Speakeasy
2012.02.12 - Dublin - The Pint
2012.02.13 - Leicester - Sub 91
2012.02.14 - Brighton - The Haunt
2012.02.15 - Wrexham - Central Station
2012.02.16 - Leeds - The Well
2012.02.17 - Wolverhampton - Slade Rooms
2012.02.18 - London - O2 Academy
2012.02.19 - Norwich - Waterfront
2
« on: October 26, 2011, 12:14:29 PM »
Nov 15@ Civic Hotel Backroom, Perth, WA
Nov 17@ The Enigma Bar, Adelaide, SA
Nov 19@ The Gaelic Theatre, Sydney, NSW
Nov 20@ The Hi Fi, Brisbane, QLD
Nov 21@ The Maram, Canberra, ACT
Nov 23@ The Brisbane Hotel, Hobart, TAS
Nov 26@ Sonic Forge Festival, Melbourne, VIC
3
« on: October 27, 2010, 10:07:31 PM »
Greetings mighty allies of the wests!
After a four month break from the live scene, we are back to pillage your browns and celebrate a wictorious year with the release of our third CD, TRIUMPH AND BEYOND. It has been a massive year for us, having the priveledge of playing tons of great local shows as well as our first national tour, and we are extremely proud of our hard work on the new album and can't wait to share it with you!
Furthermore, got some news for ya...
It brings us much sadness to announce the departure of founding member, guitarist and author Oliver Soos aka Havanti. Oli?s pleasant nature and hilarious ideas helped to form the personality of Claim The Throne, and this will continue to flow in dedication to him. Oli leaves us to return to live in Slovakia, best of luck our friend!
The replacement for Oli is no stranger to the Claim The Throne ranks, he has filled in for us before, but now we welcome Glenn Dyson (Choke, Cuntscrape, Pathogen) as a permanent guitarist in the band and look forward to the rawkus times ahead! He will begin with us in the new year, so until then we have the very talented Owen Thomas (Dyscord) lending his skills for a few shows, he played at Bastardfest with us last week and rocks the f*k.
TRIUMPH AND BEYOND will be available from 4th December through Prime Cuts Music, and this date also marks the official release party which you can find out about here -
http://www.wf.com.au/forum/index.php?topic=6530.0
Can't wait to announce some more shows, including some interstate dates too!
So until then, check out a new track THROUGH THE RAGE OF THE STORM at
www.myspace.com/claimthethrone
and let us know what you think! We will put another newie up next week so keep an ear out.
Your pals,
CLAIM THE THRONE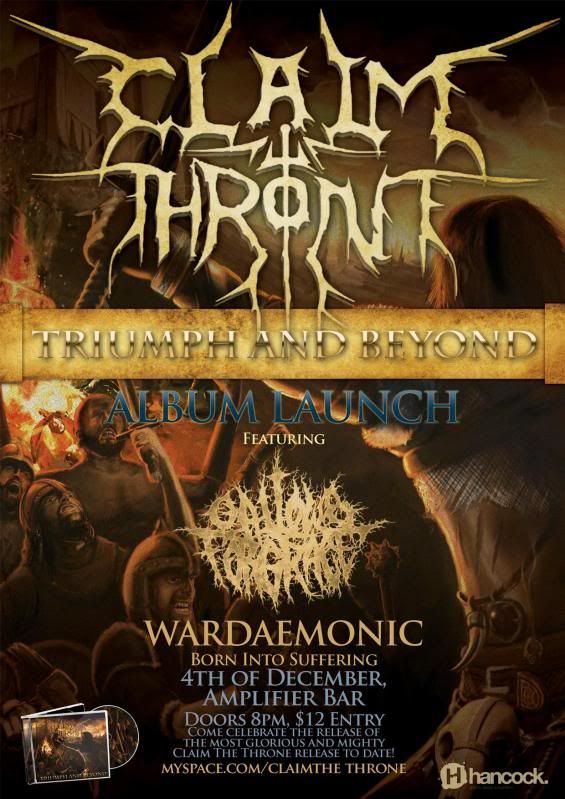 4
« on: October 27, 2010, 09:49:50 PM »
Courageously blending folk and melodic death metal, ale-guzzling Australian warriors CLAIM THE THRONE return with the third and most solid release to date, TRIUMPH AND BEYOND.
Formed in 2005, CLAIM THE THRONE have built a reputation for outrageous live performances and a unique style of metal. With a newly refined line-up in 2010, TRIUMPH AND BEYOND displays the band at their peak with 12 tracks of fearless victory and its festive aftermath.
TRIUMPH AND BEYOND was recorded, mixed and mastered by Dr Al Smith at Bergerk! Studios and is available through PRIME CUTS Music from December 4th 2010.
New track up NOW at
http://www.myspace.com/claimthethrone
Release Party Teaser at
http://www.youtube.com/user/farthingwheel#p/a/u/0/S3eyqaPGszM
Web:
http://www.myspace.com/claimthethrone
Contact: claim_the_throne@hotmail.com
Order: pcuts@bigpond.com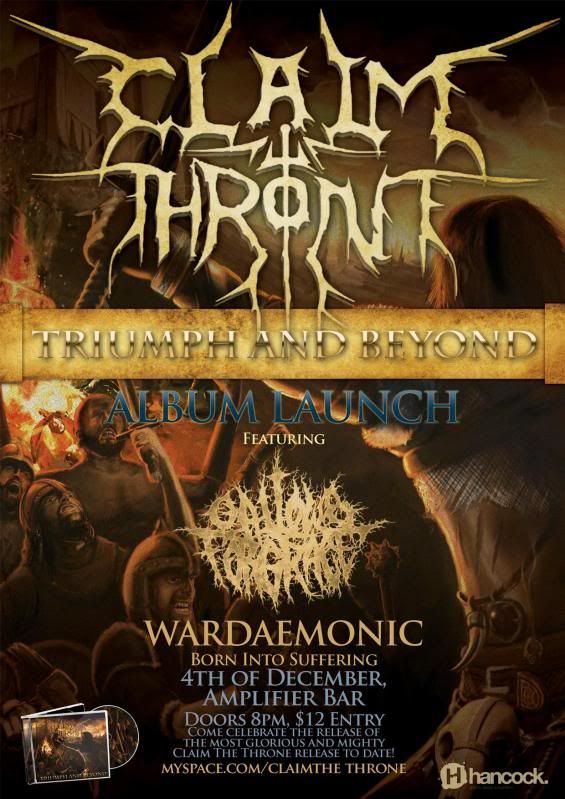 'TRIUMPH AND BEYOND' RELEASE PARTY
SATURDAY 4TH DECEMBER
AMPLIFIER BAR PERTH
W/ GALLOWS FOR GRACE, WARDAEMONIC & BORN INTO SUFFERING
DOORS 8PM
$12 ENTRY
http://www.myspace.com/claimthethrone
http://www.myspace.com/gallowsforgrace
http://www.myspace.com/wardaemonic
http://www.myspace.com/bornintosuffering
6
« on: March 29, 2010, 09:39:23 PM »
CLAIM THE THRONE
MERCHANDISE LAUNCH & TOUR WARM UP SHOW
SATURDAY 1ST MAY
ROSEMOUNT HOTEL, NORTH PERTH
w/ GALLOWS FOR GRACE, SKYSHARK & ARTERIAL HEMORRHAGE
$10 ENTRY
With a huge two months ahead of us recording & touring, we are starting it off with a big plundering party on 1st May. Doors open at 8pm but be welcome to come down early for feasting and drinking to get the night underway. Hope to have all you mighty warriors there to share the festivities with us!
http://HTTP://WWW.MYSPACE.COM/CLAIMTHETHRONE
http://HTTP://WWW.ROSEMOUNTHOTEL.COM.AU
7
« on: March 18, 2010, 03:54:07 PM »
Greetings travellers, and welcome to the latest gossip from Claim The Throne.
2009 was a successful year for the band, with the release of the ALETALES CD/DVD, our first video clip, and our first interstate show. 2010 promises to be just as eventful?
It is with pride that we can officially announce drummer Ashley Large (Oscarius ? known for going completely oscar) as a permanent addition to Claim The Throne. Acknowledged for his tremendous work in Dyscord and Mochief, Oscarius provides Claim The Throne with a tight and extreme style of drumming that can take the band to the next level. We met Oscarius late one night in a bar fight where he tore the leg off an oaken table and battered every fiend who dared cross his path. A remorseless warrior who fears not!
The next Perth battles happen in May, details will be announced soon, but here are the dates;
Saturday 1st May
Rosemount Hotel, North Perth
Friday 28th May
Amplifier Bar, Perth
Claim The Throne will be pillaging Adelaide again in May, teaming up with the mighty ones of Double Dragon, Truth Corroded and more of Adelaide?s finest acts. We are stoked to be getting back there so soon and cant wait to rejoin the brave warriors of the souths for another triumphant victory.
Saturday 22nd May 2010
Fowlers Live
North Tce, Adelaide
Double Dragon, Truth Corroded, Claim The Throne, Se Bon Kira, Skintilla
* A LICENSED and ALL AGES event*
We are extremely thrilled to be joining Scotland?s ALESTORM on the ?Plunder Down Under? Tour! We hope to be having beer funnels with many of you around the country and look forward to pillaging places we are yet to visit.
Thursday 17th June ? Amplifier Bar, Perth
Friday 18th June ? The Gaelic Theatre, Sydney
Saturday 19th June ? The Corner Hotel Melbourne
Sunday 20th June ? Rosies, Brisbane
And with that, the ALETALES era is coming to an end - we will be going into Bergerk Studios with Al Smith in June to record the next full-length album. The new songs are a mixture of stylings from both of our releases, fusing the folk-metal stylings of ALETALES with blackened melodic death. We are very excited with how the new tracks are sounding, and cant wait to get them released. The writing of the second book has also begun, but it is undecided whether this will be released with the album or later down the track.
The ALETALES CD/DVD is still available through ourselves and Prime Cuts, reviews can be found at the following pages;
Metal Obsession -
http://www.metalobsession.net/claim-the-throne-aletales
Metal As Fuck -
http://metalasfuck.net/zine/reviews/2009/claim-throne-aletales-prime-cuts
Metalcentre -
http://www.metalcentre.pl/webzine.php?p=reviews&nr=3790&lang=pol
Archaic Magazine -
http://www.archaic-magazine.com/article.php?aid=46368
Metal.de -
http://www.metal.de/cdreviews.php4?was=review&id=13704&search_highlight=claim+the+throne
The Metal Forge -
http://www.themetalforge.com/modules.php?name=Reviews&rop=showcontent&id=2595
Get ALETALES now from Prime Cuts Music (
www.primecuts.com
or pcuts@bigpond.com) or at any Claim The Throne show.

Thanks for the unquestionable support from our loyal allies over the years, we raise a thousand steins in your direction.
Eternal Gratitude,
Claim The Thone
http://www.myspace.com/claimthethrone
8
« on: October 30, 2009, 03:23:21 PM »
Welkin Entertainment Presents
THE EUPHONY FUSION 3
An Australian Metal Compilation
In an effort to help further promote the many great metal bands we have across Australia, we at Welkin Entertainment have put together yet another promotional Australian metal compilation. This time it comes packaged as double CD featuring a selection of 25 bands, of a wide variety of metal genres, from across the country. Only 1000 copies of this compilation are available, and all will be handed out for free at the conclusion of each show on the ARCH ENEMY, SUFFOCATION and WINDS OF PLAGUE Australian tour, taking place from November 1-7.
ARCH ENEMY, SUFFOCATION and WINDS OF PLAGUE performing:
Nov 1st@ Capitol, Perth, WA* 18+
Nov 3rd@ Fowlers Live, Adelaide, SA* Lic/ AA
Nov 5th@ The Forum, Melbourne, VIC 18+
Nov 6th@ The Roundhouse, Sydney, NSW Lic/ AA
Nov 7th@ The Hifi, Brisbane, QLD 18+
*Arch Enemy and Suffocation Only
* The CD?s will be handed out for free outside the front of the venue straight after the conclusion of each show.
* This compilation CD will NOT be available in stores. The only opportunity to acquire this CD is after the above gigs. 1000 copies will be distributed between the above 5 gigs, so make sure you get in quick as once they?re gone that?s it.
* THIS CD IS FREE!
?THE EUPHONY FUSION 3? Track List:
DISC ONE
1. EMPYREAN (QLD) - From Whence The Mourning Came
www.myspace.com/empyreanband
2. AEON OF HORUS (ACT) - Arrogantly Opposing Reality
www.myspace.com/aeonofhorus
3. UNIVERSUM (SA) - Day of Redemption
www.universum.com.au
4. CLAIM THE THRONE (WA) - Set Sail on Ale
www.myspace.com/claimthethrone
5. DEFAMER (QLD) - Endless Hordes Expiring
www.myspace.com/defamermetal
6. FEARSCAPE (NSW) - Nightmare Hymn
www.myspace.com/fearscape
7. EBOLIE (NSW) - 1800 Fashioncore Kids Helpline
www.ebolie.com
8. DARKER HALF (NSW) - Duality
www.myspace.com/darkerhalf
9. NEXUS (WA) - The War Of Thought
www.nexusmetal.com
10. SEVERED (VIC) - War Under A Luminous Sky
www.myspace.com/metalsevered
11. OCTANIC (SA) - The Calling/Unmaker
www.octanic.com
12. ECHO?S WITNESS (VIC) - Death Denied
www.myspace.com/echoswitness
13. SAETURNUM (SA) - Garden Of Remembrance
www.myspace.com/saeturnum
DISC TWO
1. BE?LAKOR (VIC) - Aspect
www.myspace.com/belakor
2. BLACK ORCHID (SA) - Destiny
www.blackorchidsong.com
3. ORPHEUS (VIC) - Common Enemy
www.myspace.com/orpheusmetaloz
4. DEATH AUDIO (VIC) - Place the Blame
www.deathaudio.com
5. FRANKENBOK (VIC) - Dig
www.frankenbok.com
6. SENTIENCE (VIC) - Silent Knight
www.myspace.com/sentiencelive
7. THE AUTOMATA (VIC) - Praise to the Parasites
8. SYNTHESIST (VIC) - The Sunday Scoreboard
www.myspace.com/synthesist
9. INTERNAL NIGHTMARE (VIC) - The Term is Frustration?
www.myspace.com/internalnightmare
10. ARCADIA (SA) - Burn
www.myspace.com/arcadiarocks
11. HUMAN FORGERY (NSW) - Misanthropic Reprisal
www.myspace.com/humanforgery
12. KAAMORA (VIC) - The Birth of the Digital God
www.myspace.com/kaamora
http://www.myspace.com/welkinentertainment
9
« on: September 28, 2009, 07:34:59 PM »
Greetings plunderers!
For anyone who is interested, we have a few updates from the Claim The Throne hut..
September was a pretty full on month for us, and many battles were conquered. The Aletales Release party and Metalcruise were a huge success so thanks to all who shared them with us! We have also just returned from an epic quest to Adelaide where we pillaged the Against The Grain festival with fellow WA comrades Gallows For Grace. It was a triumphant trip, check out a review & photos at
http://www.metalobsession.net/against-the-grain-5-adelaide-%e2%80%93-19092009
and further photos at
http://www.voltagemedia.com.au/gallery
.
With the splendour of September also came some sad news, that our fellow warrior and founding member Brentonious announced his departure from the band. It has been an incredible five years which has been a great experience to share, and we owe him eternal gratitude for his loyal service. We wish him all the best for the future and may his dreams be fulfilled. Here is what Brentonious had to say;
After a number of years in Claim The Throne I have decided to call it quits. While the last 6 months have been a blast I've been lacking in motivation and the band deserves a member who is committed 100%. I'm going to focus my energy into "Agony" and my new band "Mid-Apology Punch". Claim the Throne's first interstate shows will be my last. I have had some incredible times over the last few years and I'll never forget the antics that came with it. The band will continue on and I look forward to seeing what they accomplish in the future. I'm glad I can go out on a high and I hope "Aletales" is thoroughly enjoyed by the metal community.
For the time being, we will not be looking for a permanent replacement and will be working hard on the next album and book, however we do have a brave fill-in who will be playing live with us. At this stage our only upcoming Perth show is in November and will be announced soon. We are looking at some more interstate shows early next year. The new drummer can be seen below with Jim and Cabba;
We are also up for nomination in this years WAMis Song Of The Year competition in the heavy category for
Set Sail On Ale.
Votes can be placed at
http://www.news.com.au/perthnow/index/0,21581,5019216,00.html
, we raise our ales in advance for any support!
Set Sail On Ale can also be heard on the upcoming Welkin Entertainment compilation CD, Euphony Fusion 3, which will be distributed for free on the Arch Enemy/Suffocation Australian tour.
The ALETALES CD/DVD is still available from the band (myspace.com/claimthethrone), Prime Cuts Music (pcuts@bigpond.com), and 78 Records (Hay St Perth). First review of ALETALES is at
http://www.metalobsession.net/claim-the-throne-aletales
Thanks for the loyal alliance!
Hails & Ales
Claim The Throne
http://www.myspace.com/claimthethrone
http://www.primecuts.com.au
Claim The Throne recommend;
Bergerk Studios for recordings
bergerk.cjb.net
Red Empire Media for music videos
redempiremedia.com.au
Ninness Illustration & Design for artwork
ninness.com.au
Daniel Kennedy for photography
aeos-photo.com.au
10
« on: July 14, 2009, 11:37:08 PM »
Greetings warriors of the wests!
With Metalcruise sold out, a second ALETALES Release Party will be held on Friday 4th September at Hyde Park Backroom, North Perth.
Featuring
CLAIM THE THRONE
RED DESCENDING
THE MIGHTY SCRAPE
AGONY
DEATH BY DEEPTHROAT
Get down early to see CLAIM THE THRONE perform their first ever acoustic set at 8pm to get the festive feelings of the night underway.
For those who attended the ONLY THE BRAVE RETURN release party last year, you will know that a CTT Launch is no ordinary metal gig, but an experience to behold creating legends for the ages!
There will be prize draws throughout the night for those who dress in medieval costume, so get into the spirit and live like a couragous warrior for a night!
CLAIM THE THRONE - ALETALES
AUDIO
I. Plundersaga
II. Of Mead & Weed
III. Set Sail On Ale
IV. Fable From An Oaken Table
V. Two Pints Of Honey & A Barrel Full Of Beer
DVD
I. 'Set Sail On Ale' (Music Video, alternate takes, behind the scenes
II. 'Only The Brave Return' Release Party (Selection of live material, behind the scenes)
Recorded mixed and mastered with Alan Smith at Bergerk! (
www.bergerk.cjb.net
).
Artwork once again captured by Brendan Ninness (
www.ninness.com.au
).
DVD created by Red Empire Media (
www.redempiremedia.com.au
).
Tracks from ALETALES can be heard at
www.myspace.com/claimthethrone
Official Music Video from ALETALES can be seen at
http://www.youtube.com/watch?v=tXHQr-nwYz4
Hope to be sharing many ales with you all!
Your allies,
Claim The Throne
11
« on: May 11, 2009, 09:12:07 PM »
Claim The Throne will be celebrating the release of ALETALES on a 3hr cruise setting sail on the Swan River!
If you can't get in touch with the band directly, tickets can be purchased at upcoming CTT gigs or booked online at claim_the_throne@hotmail.com and payments can be accepted via bank deposit or paypal & we'll post your order. 35 bucks might seem a bit steep for tickets, but I can assure you there will be very little profits being made.. We will be working hard to outdo ourselves from the last CD launch, so hopefully it will be worth every penny! It's something a bit different and if it works out then it would be great to use as an alternative venue and have regular metal cruises. So hope to have plenty of you there to set sail on ale!
Your allies,
Claim The Throne
http://www.myspace.com/claimthethrone
12
« on: April 21, 2009, 08:58:35 PM »
Greetings brave ones!
ALETALES is the brand new Claim The Throne CD/DVD package to be released in 2009. Prior to the commencement of our second album/book, we have decided to create this MiniCD to provide us with a greater promotional tool and more studio experience.
This CD sees Claim The Throne take a much more folk-metal musical direction with songs considerably shorter and catchier. Whether we continue in this direction in the future only time will tell.
ALETALES was recorded, mixed and mastered with Alan Smith at Bergerk! (
www.bergerk.cjb.net
).
The artwork was once again captured by Brendan Ninness (
www.ninness.com.au
).
The DVD was filmed by Red Empire Media (
www.redempiremedia.com.au
).
CD
1. Plundersaga
2. Of Mead & Weed
3. Set Sail On Ale
4. Fable From An Oaken Table
5. Two Pints Of Honey & A Barrel Full Of Beer
DVD
1. ?Set Sail On Ale? Video Clip
2. ?Only The Brave Return? Release Party
3. Claim The Throne ?Behind The Scenes?
New songs up NOW at
www.myspace.com/claimthethrone
ALETALES RELEASE PARTIES
Friday 4th September ? TBA
Saturday 5th September ? Paddle Steamer Decoy (
www.psdecoy.com.au
) ? More TBA
14
« on: March 10, 2009, 02:47:33 PM »
TRUTH INC RECORDS PRESENTS
ATG5 - AGAINST THE GRAIN 2009
From its humble beginnings four years ago as an idea between friends, Against The Grain Festival has always prided itself on the idea of growth, with festival organisers Lee Gardiner and Jason North working tirelessly throughout the year to ensure that each year, Australia's premier all ages all Australian metal festival gets bigger and badder year in year out. After four years of bringing the cr?me de le cr?me of Australian acts to Adelaide on one day, the question Truth Inc Records was faced with, how can we make ATG5, bigger than all before it?? And the obvious answer, move the venue, double the bands and this time around, bring all the metal genres together, and bring the finest Australian acts the country has to offer. Previous Against The Grain festivals have showcased the countries metal / thrash bands, but with metal culture flourishing worldwide, and its audiences tastes expanding, ATG 5 will feature not only the Australia's best metal acts, but it will showcase the best and up and coming Grind metal, Death Metal, Thrash Metal, Black Metal, Folk Metal and more, over two stages, September 19th 2009 at Live on Light Square - Adelaide. Always using the legendary ?Metal For The Brain? fest as a benchmark, this year the Truth Inc Records team can boast THE metal line up it has been working to achieve over the last five years.
Against The Grain 5, this year will undoubtedly herald Adelaide as Australian metals new home as the finest bands under the 'metal' umbrella display their own variants of the many sub genres they represent, not only showcasing metal as a whole, but demonstrating outstanding song writing and musicianship, making Against The Grain a true exhibition of metal as an artistic medium.
With great excitement and pride, here are the first announcement of bands:
After having to cancel last year?s performance at ATG4 we are proud to announce that
Alchemist (ACT)
will close ATG5 this year, A unique metal hybrid unlike anything that you've ever heard before Alchemist will showcase why they are in a league of their own. On the back of their acclaimed new album ?nOn? Noise Terrorists
The Amenta (NSW)
will make their first appearance at ATG5 and bring with it a barrage of sonic noise and devastation. Prepare to witness the future of extreme metal! When it comes to 100% pure Aussie Heavy Metal look no further than
Lord (NSW),
armed with a new album ?Set in Stone? and a shredfest of a live show, LORD will set the ATG stage on fire.
Double Dragon (SA)
and
Truth Corroded (SA
), ATG main stayers and organisers will again be back on the home stage, following another great year for both bands which saw Truth Corroded tour China for the first time and Double Dragon supporting international heavyweights The Haunted and Soilwork, and appearing at Soundwave 09. With widespread critical acclaim of their live performances and their demo ?The Aurora Veil?
Ne Obliviscaris (Vic)
create a wall of progressive, symphonic metal that transcends genres from black metal to jazz.
Separatist (Tas)
wield their own impressive versatile style of playing, they've been described as Technical Death metal, Blackened-Death and everything in between and there is nothing that will stand in the way of their metal onslaught. Black metallers
Empyrean (Qld)
combine dark, melodic soundscapes with black and death metal to forge a unique brand of symphonic extreme metal that will both captivate and brutalise, Empyrean are set for dominance. Adelaide prepare for battle as Folk metal warriors
Claim The Throne (WA)
pack up the battle ships and set sail to Adelaide for the first time with their unique brand of folk metal destruction.
Universum (SA)
have been turning heads Australia wide with their debut release "Leto Destinatus" Receiving Triple J airplay and a national touring spot with Dragonforce. And finally the hard working
Octanic (SA)
who fuse elements of European melodic death metal, heavy industrial grooves, contemporary hard rock and classical sensibilities to create music that has often been described as 'Epic?.
So there you have it the first run of bands, more bands will be announced soon so for more info please visit
www.myspace.com/atgfest
.
Spread the word and make ATG5 the complete metal experience.
ATG5 - AGAINST THE GRAIN
SATURDAY SEPT 19th 2009
63 LIVE ON LIGHT SQUARE.
ADELAIDE. SA
LICENSED ALL AGES
ID REQUIRED TO DRINK ALCOHOL
ALCHEMIST (ACT)
THE AMENTA (NSW)
LORD (NSW)
DOUBLE DRAGON (SA)
TRUTH CORRODED (SA)
NE OBLIVISCARIS (VIC)
SEPARATIST (TAS)
EMPYREAN (QLD)
CLAIM THE THRONE (WA)
UNIVERSUM (SA)
OCTANIC (SA)
MORE BANDS TBA SOON
COST = tba
Tickets will be made available soon via venuetix:
www.venuetix.com.au
or phone 8225 8888
Pages: [1]