Dedicated to Australia's metal music scene
News:
Welcome to the Western Front message board

Currently ironing out some bugs with the links being sent from the board in emails.
If you need your password reset the url in the email will not work, but you can contact me directly via the Contact Us menu above.
Thanks for bearing with us.
Show Posts
This section allows you to view all posts made by this member. Note that you can only see posts made in areas you currently have access to.
Topics - Beast
Pages: [1]
1
« on: January 17, 2011, 08:16:10 PM »
THATS RIGHT
Yamaha 1608
? Great 16 Channel Analog console - Nice for Live, Rehearsal or Studio.
? Has original power supply
? 8 Assigns (Similar to Aux)
? Talkback Unit - Built In mic
? Oscillator
? Built-in Patchbay section - 16 Inserts - 8 Assigns - 1 Phones - 1 Oscillator
? Nice 3 band EQ section - nothing beats analog
? Large back-lit VU meters
$1000 ono
please email if interested
danmazzarol@hotmail.com
2
« on: January 05, 2011, 01:03:14 PM »
Laney GH100L 2007 model. New tubes. Perfect condition!
$1200 ono



Peavey Supreme XL (With Tribal Pattern). Perfect condition!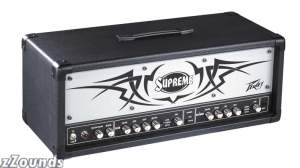 $500
Please email me if interested
danmazzarol@hotmail.com
don't bother sending me a pm as i don't frequent this site very often.
3
« on: December 17, 2010, 10:57:14 AM »
Hey ya'll,
For all interested, I have been working hard most of this year recording, mixing and mastering the new Noctis double album "Silent Atonement" due to be released next year. So we thought it was time we uploaded a track to give you an idea of what this album will bring. The track we have decided to share is called "Anyone Else" and was the last Noctis song to be written and recorded. It is quite different from what we've done before and shows a side of Noctis that has not been heard yet. Due to the album consisting of 2 x discs roughly 50mins long each, we will share with you another track from the album in the coming weeks. It will be a track showcasing the heavier side of Noctis.
So without any further ado, please enjoy Anyone Else.
www.facebook.com/pages/Noctis/12254177993
http://www.myspace.com/noctisaus
4
« on: November 16, 2009, 08:19:26 AM »
BC Rich Platinum Pro Beast, in Black with floyd rose and case
(perfect metal guitar for looking and sounding really brutal)
$600 ono

Peavey Supreme XL Head in tribal finish
(this head is two channel with switchable voicings and reverb control)
$400 ono

message me if interested

Seriously make me an offer! I really wanna sell this stuff
5
« on: August 20, 2009, 10:01:56 AM »
stolen from some blog
Peaceville Records is proud to announce the signing of Finnish prog death metallers, Barren Earth. With a line-up consisting of former members of prog/folk metal legends Amorphis, as well as current members of Swallow the Sun, Moonsorrow & Kreator, the band has been busy recording their debut album at the renowned Seawolf Studios in Helsinki, with the tracks currently being mixed by Dan Swan? (Katatonia/Opeth/Novembre).
An EP is due November 2009, with the album currently scheduled for an early 2010 release.

The music of BARREN EARTH combines elements of modern and traditional death metal, with 70's prog rock and folk. Among the band's influences are artists such as Paradise Lost, Opeth, Pink Floyd, Jethro Tull and also some pioneers of Finnish prog.
www.myspace.com/officialbarrenearth

LINE-UP
Mikko Kotam?ki ? Vocals (Swallow The Sun)
Olli-Pekka Laine ? Bass (Ex-Amorphis, Mannhai)
Kasper M?rtenson ?Keyboards (Ex-Amorphis, Ben Granfelt Band)
Janne Perttil? ? Guitar (Rytmih?iri?)
Marko Tarvonen ? Drums (Moonsorrow)
Sami Ylisirni? ? Guitar (Kreator, Waltari)

On signing to Peaceville:


?Getting signed by Peaceville Records is a great honour, as they are one of the very few metal labels left who have a passion and feeling for the music they release. To us, it also feels like coming home, because in a way they carry a big responsibility for BARREN EARTH?s existence by having released the most important albums from pioneers such as Autopsy and Paradise Lost. Those albums played a huge role, when we sucked our musical mother?s milk in the late 80?s and early 90?s. This is a fact that should be noticeably evident in Barren Earth?s sound and music. Hopefully BARREN EARTH will also be able to add a fresh spin to Peaceville?s already impressive roster?.

- Olli-Pekka Laine
sounds like an interesting combination of influences and musicains. Sounds pretty good from the myspace clips.
6
« on: April 27, 2009, 08:40:58 PM »
Noctis have had to part ways with their keyboardist Liam and are now looking for someone to help us fill out our lineup. We are influenced by Porcupine Tree, Opeth, Pink Floyd, King Crimson, Katatonia, Daylight Dies, Camel, Anekdoten, Yes, Swallow The Sun, Dredg, Novembre, Green Carnation and many more
We are currently about to record a full length cd and are at the stage of putting finishing touches on songs, so we need someone who can not only perform well in a live environment but also can help us with song writing and arrangements. We are looking for someone who is dedicated and generally on the same wavelength as the rest of the band.
All applicants must have good gear and transport.
www.myspace.com/noctisaus
Contact
danmazzarol@hotmail.com
0422910682
7
« on: April 25, 2009, 03:53:42 PM »
We are a newly formed band consisting of singer, guitarist Talia Hardaker (ex-Slowlight), guitarist Daniel Mazzarol (Noctis) and newcomer drummer Blake Holloway. Our influences "Alice In Chains, Porcupine Tree, Katatonia, Black Label Society, Led Zeppelin, Pink Floyd, Black Sabbath, Opeth, Free, Jeff Buckley.. and more"

Looking for someone dedicated, easy going, likeminded person with similar influences and tastes in music. Must have relatively good gear or be willing to get good gear. Transport is a must!

We jam north of the river and are at a very early stage in the band so we are still writing and working on songs, hope to be gigging within 6 months.
We are currently looking a likeminded person to play bass in a new band.

contact via

danmazzarol@hotmail.com
Pages: [1]