Dedicated to Australia's metal music scene
News:
Welcome to the Western Front message board

Currently ironing out some bugs with the links being sent from the board in emails.
If you need your password reset the url in the email will not work, but you can contact me directly via the Contact Us menu above.
Thanks for bearing with us.
Show Posts
This section allows you to view all posts made by this member. Note that you can only see posts made in areas you currently have access to.
Topics - ironguardian
51
« on: June 28, 2009, 10:10:20 PM »
If you've not had the chance to check out Grave Forsaken's latest material, they've put up a clip on youtube a short while back.
http://www.youtube.com/watch?v=on4WeR1pZRc
It will be their second gig with their newest line-up.
Mhorgl and Psychonaut need no introduction, we all know how awesome they are.
Archaic will be playing their second ever live show, and are eager to tear the place down.
EDIT: New poster uploaded.
52
« on: May 31, 2009, 05:17:54 PM »
Yes, I know there is a clash. I've got the 2nd Saturday of each month to put on a show at the Castle, so I'm going to make the most of it regardless of what else is on that night. However, in the case of touring bands, I'll pick a line-up that wont impact upon the other gig... such as this one.
Archaic
(debut gig)
Threshold
Fall of Seraphim
Grave Forsaken
(altered line-up)
Saturday night, 13th of June.
Doors open at 8pm, $10 entry.
53
« on: April 24, 2009, 06:14:27 PM »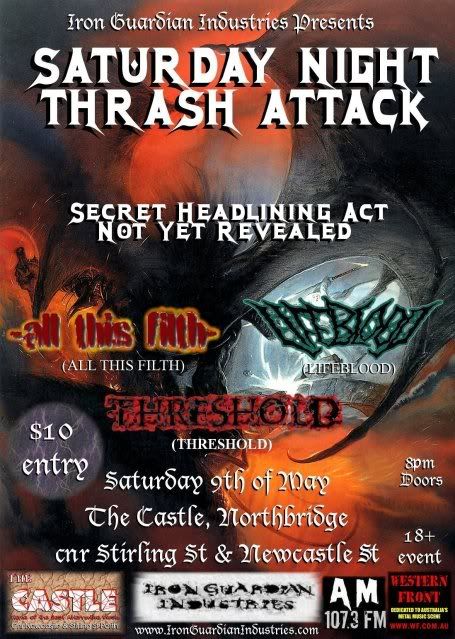 UPDATED DETAILS:
When: 9th of May, Saturday night, 8pm.
Where: The Castle, Northbridge, crn Stirling and Newcastle.
What: Potentially the first gig in a line of metal nights at The Castle. Thrash(y) Theme.
Who: Currently,
Threshold
,
LifeBlood
and
All This Filth
. Secret Headliner to be revealed later...
How much: The usual, $10.
I know there are two metal gigs on the 8th, but haven't heard anything about the 9th yet. Anyone know of anything going on that night?
If there is nothing else big on that night, Iron Guardian Industries and HateFueled Productions will be presenting a show at The Castle. It will be the first of many, as we are looking into hosting regular gigs there, aiming for once a month. While nothing is set in concrete yet, you can expect a wide variety of metal bands, ranging from some of Perth's top talent right down to promising new bands. We hope to be able to offer bands a regular opportunity to gain live experience and achieve some recognition in the scene.
54
« on: April 23, 2009, 06:27:14 PM »
55
« on: April 06, 2009, 02:44:58 AM »
Gotta be a bigger version of this somewhere...
I know that All This Filth are metal, and that inVoid are "dark/gothy rock/metal hard/to/classify/but/good". Don't really know much about the other three though.
Still, for a Thursday night, before a public holiday, it should be an alright night.
56
« on: March 28, 2009, 02:27:12 PM »
Anyone thinking of heading down to this? I've heard of all the bands, but only seen The Ascent live before, a year ago, under a different name.
Figured I'd go along, to make up for not being able to make it to any of last night's gigs.
57
« on: March 22, 2009, 04:49:13 PM »
Yup, been a while since I've said anything about these guys. Mostly because they've been locked away in the studio working on their 3rd album. It's now mostly all done and is getting the finishing touches put on. It's available for pre-order at
http://soundmass.com/show_item.php?item=5859
The pre-order will get you a documentary as well once its released. However, Iron Guardian Industries will be stocking it once its released so you'll be able to pick up a copy from me if you don't mind waiting.
Anyway, why would you want to get it? Well, they've improved an awful lot since their debut album, and have been working with a top-notch producer. Their music can actually stand up along side some of the other bands in Perth now, and they play an old style of thrash not easily found elsewhere. Plus, I told you too, and you all listen to me anyway
You can find two new songs on their
MySpace page
, but I reckon the homemade clip of Mother of Harlots is worth watching, just to see what they sound like now.
http://www.youtube.com/watch?v=on4WeR1pZRc
It's a clip from the "Making Off" documentary.
Not sure when they'll be ready to play live again, as their drummer is also busy recording the 3rd Scourged Flesh album, but I'm hoping to put on a combined album launch later on down the track for them. Once again, expect a combination of white and black metal
58
« on: November 21, 2008, 06:58:17 PM »
No doubt about it
59
« on: August 10, 2008, 12:17:35 PM »
Not sure if this is the right section, but was the best place I could think of.


I'm doing some research into getting 1000 cds pressed. I've asked around at a couple of places, but where have other people used, and who would you recommend. Would you get the artwork and pressing done at the same place, or can it be cheaper to get them done separately?