Gig Guide
Event
Title:

Me(n)tal at HQ Leederville (All Ages)

When:

06.03.2010 18.00 h

Where:

HQ - Perth

Category:
Description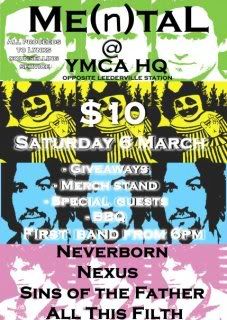 Alright folks set March 6th aside for Me(n)tal at HQ Leederville.
This event is to raise money for the Lynks Counselling Service which operates out of HQ, it is a subsidised counselling service for under 25's.
http://www.hq.org.au/Youth-Support/Lynks-Counselling.aspx
Enrty is $10 and first band is on at 6pm. There may also be a sausage sizzle on the night and a coin donation box for the kind hearted
Set times as followed.
All This Filth 6-6:40  www.myspace.com/allthisfilth
Sins Of The Father 7-7:40 www.myspace.com/sinsofthefatherau
NEXUS 8-8:40 www.myspace.com/nexusmetal
NEVERBORN 9-9:40 www.myspace.com/madnessmyfriend
They basically get bugger all funding so a few of us bands are getting together to support a good cause, as wouldn't you believe it, kids are our future and we don't need any future doctor's, Lawyer's or Gynecologists going troppo on us.
So come down, support local metal and support the Lynks counselling service.
Venue
Map
Venue:

Street:

60 Frame Ct, Leederville

ZIP:

6007

City:

Perth

State:

WA

Country:
Description
HQ Skate Park