Gig Guide
Event
Title:

Alestorm "Back Through Time" Tour (Melbourne)

When:

14.05.2011 20.00 h

Where:

The Corner Hotel - Melbourne

Category:
Description
&
SOUNDWORKS TOURING and APPARELDIRECT.COM.AU presents
with guests
VOYAGER (WA)
"BACK THROUGH TIME" AUSTRALIAN / NEW ZEALAND TOUR MAY 2011
Arrr! Those piratical badasses
ALESTORM
are sailing their way through the seas of time, to once again plunder our shores on an ale and wench raiding mission. May will be the month they drop anchor, paddle ashore and launch into the first set of swashbuckling shows, of their "Back Through Time"world tour.
ALESTORM'S
third album "Back Through Time"is an epic adventure with more drunken singalong anthems than you can shake a stick at. There are songs about midgets, songs about Wisconsin and songs about travelling through time to kill Vikings. And in an exclusive offer, Australian fans will have first opportunity to buy the new album anywhere in the world! So matey's, don't be a squiffy! Collect your dubloons, haul yourself down to the party and get your hands on a copy of "Back Through Time" before any other scallywags can.
Appealing to a massive spectrum of music connoisseurs
VOYAGER
join the ranks as a mighty fine national support. Combining it all into a melting pot of incredible melodies and arrangements,
VOYAGER'S
latest offering "I Am The reVolution" is a journey into the overloaded information age, with a sound so versatile and unique that is is simply unforgettable... the reVolution begins HERE!
ALESTORM with Voyager performing at:

May 10th - Amplifier Bar, Perth
May 11th- Enigma Bar, Adelaide
May 12th - The HiFi, Brisbane
May 13th - The Manning Bar, Sydney
May 14th - The Corner Hotel, Melbourne
May 15th - Rising Sun, Auckland, New Zealand

TICKETS ON SALE FROM MONDAY JAN 31st & can now be purchased direct from . All you need is a paypal account!
Or purchase from the usual outlets!
Perth -
www.moshtix.com
, 78 Records
Adelaide -
www.moshtix.com
Brisbane -
www.thehifi.com.au/brisbane
Sydney -
www.moshtix.com
,
www.oztix.com.au
,
www.manningbar.com
Melbourne -
www.cornerhotel.com
Auckland -
www.moshtix.co.nz
, Real Groovy,
www.undertheradar.co.nz
www.myspace.com/alestorm
www.myspace.com/voyageraustralia
www.napalmrecords.com
www.moderninvasionmusic.com
www.appareldirect.com.au
www.soundworkstouring.com
For any further queries please email
soundworkspromo@bigpond.com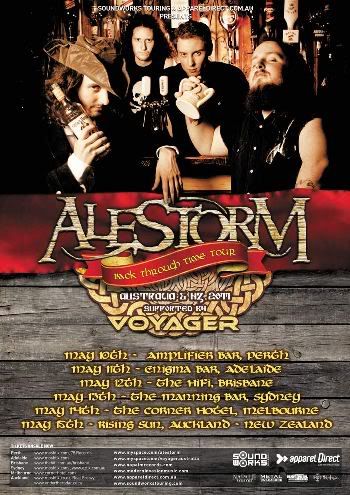 Venue
Map
Venue:

Street:

57 Swan Street, Richmond

ZIP:

3121

City:

Melbourne

State:

Victoria

Country:
Description
Sorry, no description available