Gig Guide
Event
Title:

Blood Brothers

When:

09.07.2011 20.00 h

Where:

Railway Hotel - Perth

Category:
Description
SILENT KNIGHT return to the stage and are bringing a very special group of guests along for the ride.
SILENT KNIGHT features members who play in several other high profile Perth bands, and we have invited each of those bands to share the stage for the very first time for this special event: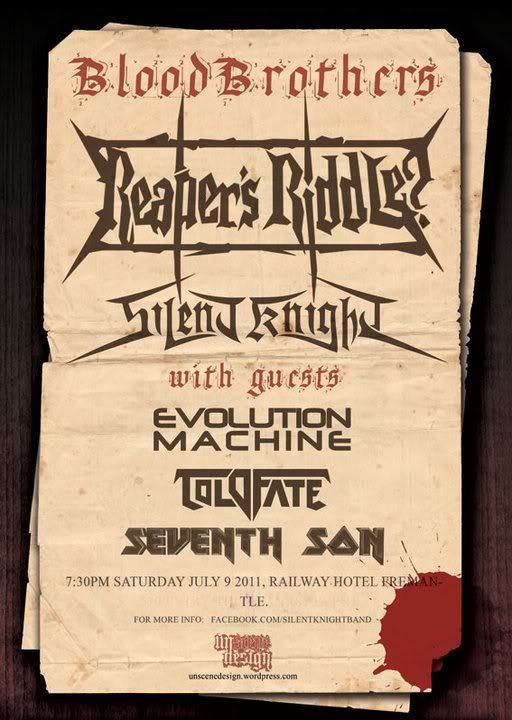 We have the very exciting EVOLUTION MACHINE (featuring SILENT KNIGHT bass player Dan Parker).
Thrash metal titans COLD FATE (featuring SILENT KNIGHT lead guitarist Cam Nicholas).
And finally, SEVENTH SON which is Perth's very own Iron Maiden cover band (featuring SILENT KNIGHT lead vocalist Zoran Cunjak) who will kick off the evening with some high energy Maiden classics!

Also, just announced REAPERS RIDDLE will be joining in the mayhem on this event so get down and catch these guys you wont wanna miss it!

Stay tuned as we still have the headliners spot to announce in coming days!
SILENT KNIGHT have 2 gigs booked for July and we may not be back on stage again till the years end so don't miss his opportunity to come down and rock!




Railway Hotel - Fremantle
Doors 8pm
$10 entry
18+ event
Venue
Map
Venue:

Street:

44 Tydeman Road, North Fremantle

ZIP:

6159

City:

Perth

State:

WA

Country:
Description
Sorry, no description available