1
« on: July 11, 2011, 09:05:16 PM »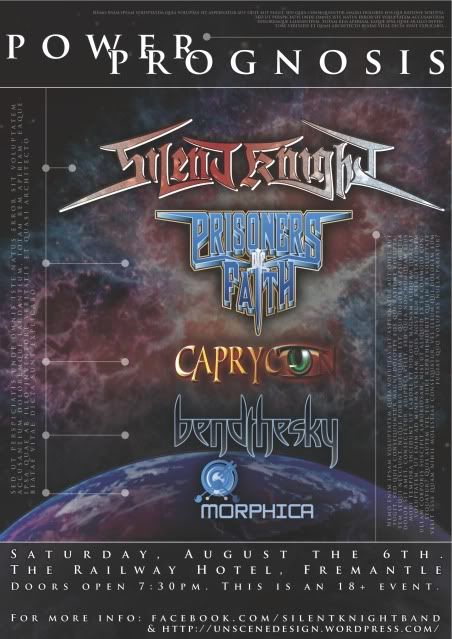 http://www.facebook.com/event.php?eid=224766180897001
POWER PROGNOSIS
2 Classic/Power metal bands and 3 Progressive metal bands join forces for a big night in the very first Power Prognosis!
Doors open 730 be sure to come down early to catch Morphica, a relativly new band filled with very experienced (and well known) Perth players. Tonight, they will be treating the crowd to some songs written by the worlds biggest prog bands.
Bend the Sky and Caprycon have certainly made a name for themselves in the Perth Prog scene and tonight they unite the prog fans of perth to show why they are the up and comers and will demand your attention on the live stage!
Prisoners of Faith are Perths classic metal torch bearers featuring a 3 guitar attack, with songs of battles, gods and crusades. They are influenced by the god fathers of the genre and it shines through in the bands brilliant work.
Silent Knight are Perth's power metal force influenced by the European power bands of the 80s. Bands such as Iron Maiden, Helloween and Hammerfall thier sound is full of shredding guitar solos & harmonies, double kick drums and a classic Bruce Dickinson-esque vocalist!