Neverborn is a band hard to define, even harder to categorise. Some make comparisons to Fear Factory due to the kick-driven rhythms and Meshuggah due to the unusual timing structures. Others suggest influences such as Dimmu Borgir, Carcass, Soilwork, Slayer, Alice in Chains, Pantera…. too many to list. Actually, they are all correct. Neverborn defies any category because it draws inspiration from hundreds of bands and resembles none.
Neverborn started as a side project by two members of other Perth metal bands, writing on a computer in a small room. The writing took several years before the sound they sought was found, and in 2004 a band was formed and the Neverborn machine became a reality.
In January 2006 Neverborn launched their first CD, the 11 track album "Madness, my Friend." It was a low budget affair and intended for local release only, but found it's way all over the country, including being given a prime place on the "Underearthed 4" compilation. Reviews were vaired, but the general message was that the material was fresh and innovative, but the mix below par and the decision was made to ensure the next CD is a vast improvement.
And so it is. Recorded at Depth Studios with the notorious Geoff, the new CD is as mould-breaking and fresh as the last CD, but with more aggressive songwriting, a different feel and a sharp modern sound mix.
Titled "1000 Miles of Hell", it is a fiery spiteful album full of hate and malice, brutal of beautiful all at once, melodic and aggressive in equal parts and a huge step forward for Neverborn.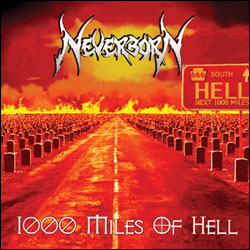 There is no filler material in this CD, each song is meticulously crafted and recrafted until it glows with arrogance and spits its hate unrelenting . From the explosive machine gun riffs of "Black veiled" to the frantic pace of "wonder if I'm dead", from the dark melodies of "Final Breath" to the violent grooves of "Divide and Conquer", this is an 11 track album that demands your full attention..
And as of July 6th, 2007 you can find out for yourself, when Neverborn launches "1000 Miles of Hell" at Heat Nightclub with special guests The Alchemont, Dyscord, Angelsai and Left Ablaze.
Neverborn is: Chris "Big Mac" Swayn, on Lead Vocals Jez "Angrydad" Devereux on Keys/vocals, Josh "C" Harris on bass, Matty "JJ" Brennon-Jones on guitars/vocals and Michael Foetus" Vulin on drums..