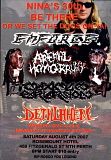 There are a couple of gigs worth checking out this Saturday night – one being the annual event to celebrate Nina's birthday (Nina being a long standing main-stay of the Perth metal scene). This one is extra special as it is her 30th! But let me say Nina, you don't look a day over 10,957 days old!
To celebrate the occasion in true metal spirit will be performances by Enforce, Maximum Perversion, Arterial Haemorrhage and Dethlahem making their first appearance in a long time, along with their new members. This is happening at the Rosemount Hotel and definitely worth coming down for.
But if rocking out is more your style then Saturday will also be your last chance to see Subtruck play (at least for a while and the current lineup). Drummer Kris Goodwin has decided to leave the band. This Saturday August 4 at The Civic will be his final appearance with the band.
Singer/guitarist/songwriter Phil Bradley is not closing the door on the Subtruck name and plans to continue it on in one form or another. The bad news is that bass player Rob Troup won't be continuing with the band and at this stage won't be performing bass with them at Saturday's show. EDIT: News just in – Rob WILL be playing bass with them this Saturday, making it his final show with Subtruck as well as Kris'. It's great that he has made this decision, giving us the chance to see the full lineup together one more time. And it definitely will be the last time with Rob and Kris in the band so if you're a fan of Subtruck there's no way you can miss it.
For info about either show or other gigs coming up check out the gig guide.