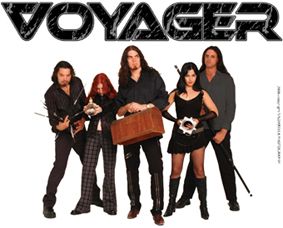 WA's melodic metallers Voyager travel to Europe next month and are holding a huge send-off gig this Friday, 1st September @ Club Capitol – 393 Murray St, Perth. Helping to celebrate will be support bands Malignant Monster, Plague and Pyromesh. There will also be giveaways and a guest DJ from RTRFM's Critical Mass.
In Europe throughout September/October, Voyager will perform at a select number of shows including the Progpower Europe festival (alongside Ephel Duath, Textures and Scar Symmetry, among others) in the Netherlands. Additionally, they will head to Berlin's Popkomm music exhibition to help promote the band and their up-coming album uniVerse, scheduled for release early '07.
Entry is only $10 and doors open at 8PM so get down there early so you don't miss out on some of WA's finest. Voyager merch will be available on the night, plus a Prime Cuts Music stand will be there for anyone looking to pick up a bargin.