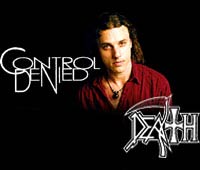 Chuck Schuldiner
The Fragile Art of Existence
Chuck Schuldiner, a pioneering force in death metal and grindcore as the vocalist and guitarist for Death, died after a lengthy battle with a brain tumor. The seminal metal figure passed away on the 13th of December, 2001 at the age of 34.
Schuldiner was diagnosed with pontine giloma, a rare type of brain tumor, in 1999 and struggled to afford treatment. The guitarist eventually underwent surgery for the tumor in January of 2000, and appeared to be recovering well in the months following the operation. Earlier this year, however, Schuldiner's condition worsened as his tumor continued to grow and proved inoperable.
The Sound of Perseverance
Guitarist/vocalist/songwriter, Chuck Schuldiner, first set the heavy metal underground aflame in the early 80's with his seminal metal outfit, Death, a band that has achieved unparalleled status as one of the genre's most respected and influential acts. Despite the early acclaim and attention, Chuck had no interest in resting on his laurels and the musical prowess and originality he had already become known for were pushed further and further, consistently remaining ahead of the times.
Individual Thought Patterns
Schuldiner formed Death in his native Florida in 1983 and released the band's first album, "Scream Bloody Gore," on Combat Records in 1987. While Death has released seven albums since its formation, Schuldiner (like most musicians) was not granted medical insurance by any of the three record labels that the band recorded for. Death released a total of five albums on Combat between '87 and '93 before jumping to Roadrunner Records for 1995's "Symbolic." The band's most recent effort, "Sound of Perseverance," was released on Nuclear Blast Records in 1998.
Schuldiner was the lone constant in Death's rotating lineup, and he surrounded himself with some of the group's supporting cast when forming the more melodic Control Denied in 1996. That group released one album, 1999's The Fragile Art of Existence. Soon after the album's release, Schuldiner's tumor was discovered.
Spiritual Healing
Schuldiner's plight provided a harsh reminder of the struggle of artists working without health insurance, and the metal community soon rallied around the ailing guitarist. An array of artists including Kid Rock, Korn, Red Hot Chili Peppers, Marilyn Manson, Godsmack, Disturbed, Pantera and Slipknot kicked in merchandise for an auction benefiting Schuldiner. Chimaira also pitched in, soliciting donations for Schuldiner while on the road with Spineshank, and numerous death metal acts around the world organized benefit concerts.
Works
Symbolic
There is a memorial set up in rememberance for Chuck Shuldiner at the official Death and Control Denied website – Emptywords, so go there to see the many messages left by fans from all around the world, and to pay your respects. The Emptywords site also covers the history, biography, works and a lot more about Chuck in detail, and is recommended to check out.
Links: